Every beginner marketer needs to repeat one thing every single day, "I only make money from my blog when I sell!" When they understand and accept this, they can focus on what matters.
Often, marketers miss the point as they bog themselves down with the many parts of running an online business but are not the main thing.
They do their best to deliver value to build trust and credibility with their audience. Marketers are in a constant content creation race as they try to outdo the competition.
They check off all the required boxes except the one that puts money in their pockets, selling.
They fail to keep 'selling' at the forefront of their minds and end up failing miserably. Now they have blogs with lots of content that are of little use when building an online business. They have the information, but they don't provide the solutions.
The secret to avoiding this problem is to monetize your blog effectively. To make money from your blog you have to sell, sell, and sell more to be profitable. How else will you make money?
Even if you're displaying sponsored content on your blog, you're still selling ad space.
In this article, you're going to learn five ways to transform your blog into a money-making machine that works around the clock for you.
Proven Methods to Make Money with Your Blog
There are many monetization methods with varying degrees of efficacy. But ultimately, someone has to buy something (or click on an ad) for you to see money in your bank account.
Let's start with these proven methods.
1. Use Your Blog to Sell Products as an Affiliate
Selling other people's products is probably the easiest monetization method of the lot. All you'll be doing is selling other people's products and collecting commissions from the sales you generate.
You don't need to worry about the tech details or customer service. Your focus is only on pre-selling and creating persuasive reviews.
Several platforms allow affiliates to promote products. The most well-known among marketers are Amazon, ClickBank, CJ Affiliate, and others.
Once you register with these platforms, it's just a matter of adding your affiliate links to relevant products in your niche.
Remember to keep in mind the products you sell from your website must relate to your niche. For example, you don't want to promote solar panels on a dog training site because of the higher commission.
However, you would sell hand tools or power tools on a woodworking site regardless of the commission. See the difference? The products match the niche.
Ideally, you want to promote a mix of both tangible and digital products. It's also wise to promote products on different affiliate networks to ensure that all your eggs are not in one basket.
Too many bloggers rely entirely on the Amazon Associates Program. Then they see their earnings dry up overnight if Amazon bans them from the platform.
Unfortunately, this does happen. What's your takeaway?
Diversify, diversify, and diversify some more. You can sign up with any number of affiliate networks. Do some research, and then make a decision. Be sure to read the terms and conditions so you know the rules.
2. Create and Sell your Digital Products from your Blog
Selling digital products you create is a highly lucrative way to make money from your blog. It's more technical because you'll need to set up a sales page, funnel, etc. You'll also need good copywriter skills to maximize sales conversions.
All this may seem like a lot of work, and it is, but the rewards are great.
You could do most of the work yourself by using page/funnel builder(s), and you have many choices. You can build landing pages on your WordPress blog, or, if you prefer, you can use an HTML page builder.
These types of software range in price from zero to inexpensive to yikes!
You could also outsource different parts of the process to freelancers on Fiverr or Upwork while you focus on what you're good at.
And when it's all completed, you just put the moving parts together, and voila! You have your very own product that you can sell from your blog and make some money.
With all the content you're posting and the credibility/authority you've built, it'll be easier to sell a product you developed. Your audience likes you and learned to trust you. That means they are more likely to buy your product rather than a similar product created by someone else.
When you create and sell your products, you have more flexibility and control over:
Product pricing
If it's a one-time fee or a recurring monthly/yearly membership
The depth of the sales funnel (upgrades, down sells, etc.)
Customer service
Yes, it is more work. But from a business standpoint, it's potentially more profitable if you're good at it.
3. Sell Physical Products from your Blog
Another way to monetize your blog is to sell physical products. You'll need a store with a shopping cart that calculates tax and shipping costs. Additionally, you'll need to fulfill the orders.
You'll have to decide if you will drop-ship products or maintain an inventory and mail the products yourself. One option is to use Fulfillment By Amazon (FBA).
You'll need to do your research and see which method is best for your business. You don't want to find yourself making lots of sales, but the post office has become your second home.
4. Provide a Service to Make Money with your Blog
When you provide a service that requires your direct involvement, you trade your time for money. Common examples of services are content writing, copywriter, graphic design, video creation, website design, etc.
These are time-consuming tasks. You could make top dollar, but ultimately, it's still a job, and it's not passive income. But it's your call.
You could also provide software as a service (SaaS) and still make a hefty chunk of change without much involvement.
Alternatively, you could be a middleman and use service arbitrage to sell services that others perform. In this scenario, you find a client, you charge a higher rate, then hire a freelancer at a lower cost to do the job.
You'll then deliver that job to the client, receive payment, pay the freelancer, and you'll pocket the difference. Of course, you'll need to make sure the work performed by the freelancer meets your client's specifications before delivery.
You want to ensure your reputation remains intact. Service arbitrage can be tricky, so make sure you know what you're doing.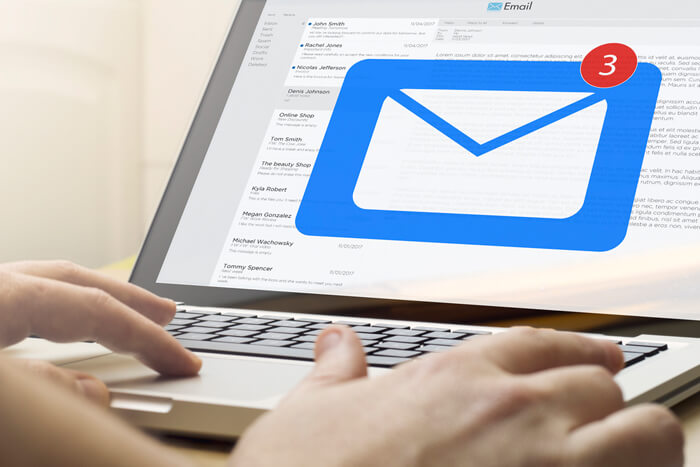 5. Use Email Marketing to Make Money with Your Blog
We saved this for last because we can't talk about selling anything online without talking about email marketing. That's because it works! It starts with the opt-in email form you place on your blog so your visitors can subscribe to your email list.
Unlike using social media marketing, which your audience can block, most people check their emails. You want to show up in the inbox to sell!
Don't forget the value of using email to sell, and always remember to deliver value when you use email. You'll have to find the right balance.
Software to build your list
The easiest way to start building your list is to use software like Thrive Leads to display opt-in forms, pop-ups, scroll mats, and so on. This is excellent software, and you can benefit from using it.
If your budget is tight, you can check out PageDyno. It's simple to set up but doesn't have all the bells and whistles found in Thrive Leads. PageDyno is a cloud-based app that integrates with many autoresponder services. You also have the option of hosting your landing pages on your server.
If your budget is really tight, you can download Hustle from the WordPress plugin repository. It's a free plugin with a Pro upgrade option. The developers of Hustle have a reputation for creating reliable WordPress plugins, so the free version should serve you well.
Another useful WordPress plugin is Post Gopher. It allows your site visitors to enter their email information then download your blog posts as PDFs to read at their convenience. This is another way to help your visitors subscribe to your list.
Now it's just a matter of connecting your opt-in form(s) to a reliable autoresponder service, and you're good to go.
Aweber is arguably the automated email service most used by online marketers and businesses. However, they are not the only kid on the block.
ConvertKit is another popular autoresponder service. A double opt-in feature with one click of the mouse ensures more people end up on your list.
Other autoresponders require a 2-step process to confirm the opt-in; you may end up losing subscribers who don't follow through.
The point is to make sure to collect emails on your blog, and you have an autoresponder sequence in place to nurture the subscribers on your list.
Always remember to promote your products or affiliate products in your emails.
Conclusion
The five methods above are all you need to make six or even seven figures with your blog(s). Apply two or three of the methods above and watch your business grow and your income skyrocket.
Start working on them today!
---
This website may contain affiliate links and we may receive compensation for purchases made through these links. This in no way affects your purchase price. More importantly, we strive to recommend products & services that will benefit you regardless of any benefit to us.